In ongoing archaeological excavations at Oymaağaç Mound, formerly known as Nerik, an important religious and cultural center for the Hittite civilization, 3000-year-old wooden artifacts have been discovered submerged in water.
Oymaağaç Mound is located in the Vezirköprü district of Samsun province in northern Turkey.
The excavations at Oymaağaç Mound, which began in 2009 in a tunnel that descends 52 steps and is 22 meters long, reaching a depth of 8 meters, were completed in 2019. During the archaeological work inside the tunnel, wooden fragments were found within the spring.
Uşak University Archeology Department Lecturer and Head of Oymaağaç Mound Excavation Assoc. Dr. Mehmet Ali Yilmaz, the importance of the tunnel with steps and the spring inside Oymaağaç Höyük. He explained, "The spring at the end of the tunnel is mentioned in Hittite cuneiform texts as a spring beloved by the weather god. As you can see at the end of the tunnel, there is water. Currently, the water level is high, but during the Hittite period, it flowed in a more regulated manner through a channel. We can say that it was an important source of water for the Hittites, especially for their rituals."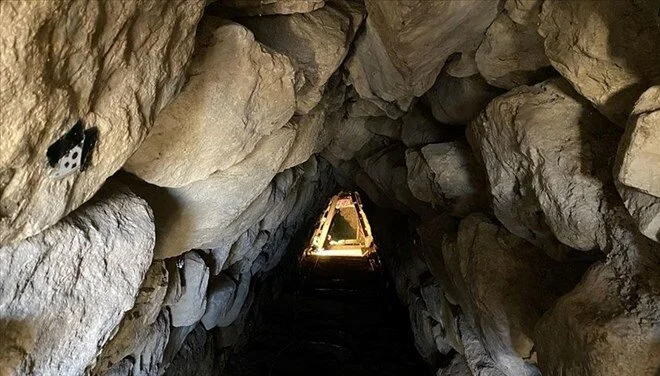 In an interview with AA news agency, Dr. Mehmet Ali Yılmaz, explained that they had discovered wooden artifacts submerged in water mixed with mud during their excavations. He stated, "The radiocarbon dating of these wooden artifacts points to the Iron Age. In other words, these woods are dated to the end of the 10th century BCE and are 3,000 years old. This date indicates that the tunnel, and consequently, this spring, were still in use during the Iron Age."
Dr. Yılmaz also mentioned that they believe wooden structures were either stored in the tunnel or discarded into it. He continued, "Among these wooden artifacts, there are some architectural elements. For instance, wooden interlocked with each other, a common architectural feature in the Black Sea region. There are also stacked logs. Additionally, there are wooden anchors, a sword used for weaving wooden kilims or tightening natural ropes, and pieces of neck collars. Because of the variety and mixture of these wooden findings, it seems like this place was used as a storage area in its later periods. This shows that it is one of the oldest preserved woods in Anatolia today. Some of these woods are still preserved in the water where they were found. The qualified ones have been documented in 3D and are waiting for conservation in a climate-controlled container that operates 24/7 throughout the year. One of our future projects is to determine if these woods fit into a logical construction. We will try to understand this through three-dimensional models."
Dr. Yılmaz concluded by stating that the wooden artifacts found in the water inside the tunnel are extremely important for Anatolia, as they represent well-preserved, water-saturated wood, which is now documented in the literature.
Cover Photo AA