A two thousand year old salt field in the Kaunos Ancient City, which is placed on the UNESCO World Heritage Temporary List, surfaced near İztuzu Beach in the Ortaca neighborhood of Muğla when the waters receded.
Kaunos is an important trade center of the Caria region. The history of Kaunos dates back to B.C. It dates back to the 10th century. In ancient times, Kaunos was part of the Kingdom of Caria. The city was known for its port and salt production.
Kaunos Ancient City's excavation director, Associate Professor Dr. Ufuk Çörtük, stated that the 2,000-year-old salt field revealed by the receding waters of İztuzu Beach had been used as an additive in the production of eye ointments in pharmacology, according to ancient sources.
Çörtük stated, "Salt is an essential need for the human body. At the same time, it was a source of livelihood for people. In the ancient period, we see that the facility was established in this region with an engineering marvel.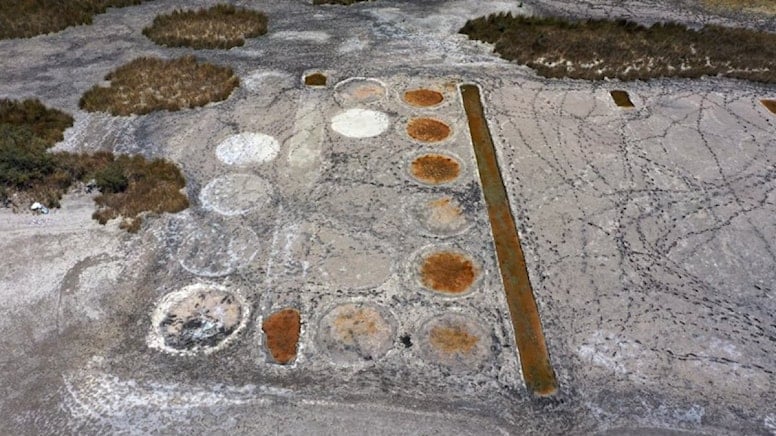 In our experimental archaeological studies, we know that an average of 4-5 tons of salt was produced during the 3-4 month salt production period. We know that the produced salt was transported to the port in sacks and exported by ships to Greece, the islands, and other regions in need."
Çörtük argued that there hasn't been a similar finding to Kaunos salt pans in the ancient world. Due to the salt pans being underwater for most of the year, they are not visible for the majority of the year. Çörtük said, "Now, we are at the end of September. Due to low rainfall and high temperatures, this year the salt pans are indeed visible."
Kaunos Ancient City
Kaunos Ancient City was initially discovered by the British researcher Rd. Hoskyn. In 1840, during his expedition, the British Hoskyn found an inscription bearing the names of the Kaunos people and assembly.
In Kaunos Ancient City, there are well-preserved rock tombs that remain unspoiled. According to Strabon, a geographer from Amasya, there used to be a closed-mouthed harbor in the vicinity of the current Sülüklü Lake in Kaunos.

Kaunos Ancient City has been under the dominion of Egypt, Persia, the Kingdom of Pergamon, Rhodes, and the Roman Empire.
In ancient times, Kaunos was a significant port city where trade played a crucial role. However, over time, the accumulation of alluvium in the sea led to the loss of its harbor feature.
According to Herodotus, the people of Kaunos were originally the indigenous people of Caria, but they considered themselves as Cretans.
Cover Photo AA